Telcos revolutionize product innovation using big data
Posted On January 26, 2015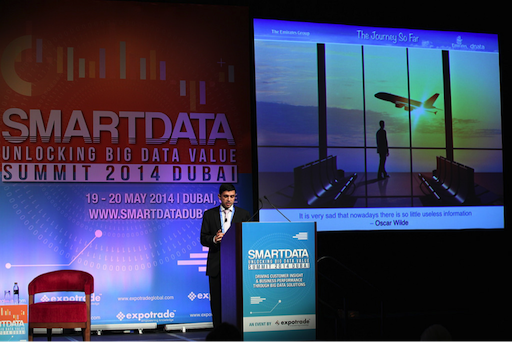 Presentation in progress at Smart Data Summit 2014
Global transformation and smart data are terms bandied about in the same breath the world over. With wide-ranging implications across sectors, industries such as banking, retail and services, to name only a few, are no strangers to this trend. Take telecom, for instance. The rapid march of technology is fuelling increase in digital connectivity, networked services and most of all, segmented and well-targeted products and services. With connectivity no longer an issue, systems are producing data at an unprecedented rate. But storing this data is simply not enough anymore. What is interesting to see is what happens when this big data is asked smart questions, questions that enable businesses to deliver better products, identify gaps and ultimately, enhance customer experience. Understanding the impact and implications of this trend forms the crux of discussions at the Smart Data Summit, to be held on May 25-26, 2015 at the Sofitel Dubai The Palm Resort and Spa in Dubai, UAE.
Business cases based on actual statistics on personal usage or inferences and forecasts is fast becoming a best practice. With an estimated 50 billion devices wirelessly connected to the internet by 2020, predictive analytics used as the main basis for product development is logical, more so in a fragmented and competitive market such as telecom. The applications are far-reaching and expansive. Smart data and analytics have helped telecom companies increase sales, reduce churn and fraud, improve risk management and decrease operational costs. To take a topical example, the Middle East region's leading telecom operators, Du and Etisalat have both launched product offers that promise free usage of social media sites such as Facebook, WhatsApp, BBM and Twitter with every recharge. This is a classic example of product innovation based almost entirely on analytics. Consider analytics based on statistics, such as the UAE's leading position in regional rankings across social media platforms, such as Twitter, Facebook and LinkedIn, in terms of user penetration. Add to the mix, over 5 million active Facebook users and a top 10 ranking globally in WhatsApp adoption rate, to create a potent case for such a product.
In addition to these statistics, telecom companies use machine learning technologies that analyze seemingly unconnected information that can, when interpreted correctly, reveal a virtual treasure trove of information for companies looking for smart and innovative ways of honing service offerings and bolstering their continual efforts at providing customer delight. With the core purpose of garnering knowledge from experience, patterns of behavior are extracted from user data, while specialized algorithms study and track social networks, anticipate churn and discover hitherto unexplored users groups.
The universe and scope of such smart data technology is almost mind-boggling. It virtually ensures that no one is invisible anymore. The Smart Data Summit explores these opportunities in the telecom sector and much more. Visit www.smartdatadubai.com for event details.