Smart Data Summit Welcomes Denodo as a Gold Sponsor for the Second Consecutive Year
Posted On March 17, 2016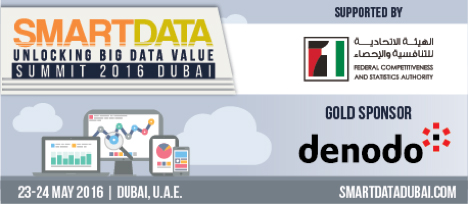 Expotrade Middle East, organizer of the Smart Data Summit is thrilled to announce Denodo as a Gold Sponsor for the third edition of its summit. Taking place on 23 – 24 May 2016 at Sofitel Dubai The Palm Resort & Spa, the summit will attract over 300 senior IT, data analysts, marketing and business intelligence specialists from across the Middle East region.

Given that organizations across the globe and across industries are using big data and analytics to drive their business, the summit across two days will highlight the key issues and opportunities in data management. As leaders in data virtualization software, Denodo will showcase the remarkable success that they have achieved through their marquee solutions during their participation as Gold Sponsor at the two day summit. Additionally, Denodo experts on-ground will throw light on how the Denodo Platform for data virtualization can fit into your business architecture. Apart from the detailed outline on its solutions, the event will also feature a 20 minute session by Mr. Angel Viña, CEO, Denodo on the topic Increase Competitive Advantage in Your Business with Fast Data Strategy on day one of the summit.

José Juan Sánchez, Marketing Director EMEA/LATAM at Denodo, said, "Data provides a true competitive advantage to organizations, but arming employees with the right data at the right time can be a challenge. Business users are finding that traditional data warehousing is no longer enough. During our presentation, we will explain how the logical data warehouse with data virtualization accelerates information delivery in large organizations thanks to its ability to integrate data without transformation or physical movement from the data source.

Emphasizing on the partnership, Mr. Brad Hariharan, Regional Director, Expotrade Middle East, said, "In today's technology-dominated world, businesses are adopting solutions that offer faster and easier access to data and companies are exploring radically new go-to-market approaches. In such a scenario, our summit's agenda broadly focuses on the power of business intelligence and the role it plays in transforming the business today. Denodo's role as a leader in the data management field resonates with the theme of our summit. We are extremely proud and pleased to have Denodo participate at our summit for the second consecutive year."

Mr. Sánchez further added, "Our main goal is to ensure that everyone fully understands what data virtualization is and recognizes it as a solution to a wide range of growing data challenges across multiple industries."

More information regarding the event is available at http://www.smartdatadubai.com. Follow the Summit on social media with the hashtag #SDATAS2016.

About Denodo

Denodo is the leader in data virtualization providing agile, high performance data integration and data abstraction across the broadest range of enterprise, cloud, big data and unstructured data sources, and real-time data services at half the cost of traditional approaches. Denodo's customers across every major industry have gained significant business agility and ROI by enabling faster and easier access to unified business information needs for agile BI, big data analytics, web and cloud integration, single-view applications, and enterprise data services. Denodo is well-funded, profitable and privately held. For more information, visit www.denodo.com.