ACIS Information Technology Supports the 3rd Annual Smart Data Summit as Silver Sponsor
Posted On May 15, 2016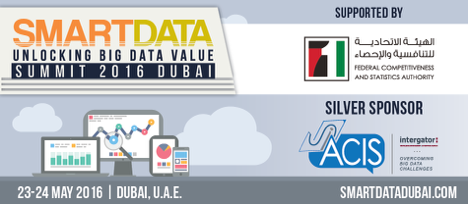 Smart Data Summit, the leading big data and analytics summit in the Middle East, today announced ACIS Information Technology (ACIS IT), a leading IT solutions and service provider has joined the summit as a silver sponsor. Organized by global conference producers, Expotrade and supported by the Federal Competitiveness and Statistics Authority (FCSA), the summit will be held on 23 – 24 May 2016 at Sofitel Dubai The Palm Resort & Spa.
The summit provides insights from industry leaders on how businesses can leverage big data and analytics to attain ROI and establish market leadership. In line with the summit's theme, ACIS IT will address key concepts of Knowledge management and the challenges of unstructured data in Big Data in a panel discussion moderated by Nabil Azar, Managing Director of ACIS Information Technology, which will emphasize upon how an enterprise can address them.
Emphasizing on the importance and challenges of big data, Mr. Nabil Azar, Managing Director of ACIS IT, opined, "With UAE's focus on building a smart city and the way big data is transforming the way companies are doing business, ACIS Information Technology has a long way to go in contributing towards the digital data era. Most vendors today focus on structured data but the latest statistics shows that 80% of the content in any organization will be unstructured data and more than 30% of overall data coming from multiple data sources will be duplicate and garbage data, hence we have a bottleneck situation. Big data solutions, at its core should run an intelligent search engine, powered by advanced capabilities to capture, process, filter and understand this data first while efficiently and securely integrating multiple data sources without overwriting any access rights pushed. Secondly, while the system should manage, search, find, share queries, monitor compliance and generate results in different forms of analytics, knowledge graph within a few clicks, it should also provide insights to enable strategic decision making."
At the exhibitor lounge, ACIS Information Technology will showcase its flagship product – intergator: a German based leading Knowledge Management & Enterprise Search product in Middle East & Africa.
intergator, the semantic and smart platform offered by ACIS Information Technology, is an all-encompassing search solution, knowledge management and analytics tool which enables users to quickly access relevant information from millions of emails, documents, websites and other data sources within an organization or company.
Suited for a 'Big Content' environment, intergator offers a flexible, user-friendly and unique functionality. The intergator Social Dashboard allows users to create topic-specific pages to be shared with colleagues. This feature enables enterprises to create a system-wide and comprehensive Social Intranet.
Mr. Azar, further added, "As the exclusive distributor of 'intergator:' the leading German Knowledge Management & Enterprise search platform in MEA, we are confident that the audience at the Smart Data Summit will understand the transformation we can enable in terms of overcoming the challenges of Big Data. In fact, we believe that this Summit will help us spread the message to IT decision makers and open potential opportunities for us in the region."
Commenting on the partnership, Brad Hariharan, Regional Director, Expotrade Middle East, said, "We are proud to welcome ACIS IT as a silver sponsor for the upcoming Smart Data Summit. It gives us great pleasure to provide the best platform to ACIS IT to showcase their marquee solutions. ACIS IT's solutions speak to the core of what the Smart Data Summit represents. We look forward to a successful and meaningful partnership with them."
Attracting over 300 senior IT, marketing and business intelligence specialists, the summit will examine how big data trends are shaping the future of various industries and how organizations can harness the power of big data and analytics to derive maximum business value.
More information regarding the event is available at http://www.smartdatadubai.com. Follow the Summit on social media with the hashtag #SDATAS2016.
About ACIS IT

ACIS Information Technology (ACIS IT) is a fast growing ICT Services & Solutions Provider. The founders of the company possess over two decades of global expertise in the IT industry, which is a prime contributor towards the credibility they have established within a short span of time.

ACIS IT offers comprehensive IT solutions, with their reputed alliance partners, to customers across all industry segments in the region. The company also delivers specialized IT services, customized as per every customer's dynamic needs with its operations across Europe, Middle East, Africa, India & USA. ACIS IT also has an extended arm as a Distributor of leading international IT brands, that empowers every organization to meet the challenges in meeting today's agile trends with the most innovative solutions.

Since inception, ACIS IT has been adding value as a Solution Integrator with an industry focused approach revolving around the deployment of niche 'value based' solutions. The team comprises of highly specialized and passionate professionals, working unanimously towards the company's objective of bringing transformation across all clients.

ACIS IT is the exclusive distributor of a German software, Intergator: the leading Knowledge Management & Enterprise search platform in Middle East & Africa. The team's approach to its market segments, which includes Large Enterprises, Small / Medium Businesses and Consumers, is reflected in the following quadrants within the IT industry –

Enterprise Search & Knowledge Management | Information Management & Security | Data Analytics | Business Applications | IT Infrastructure, Networks & Communication | Virtualization, Mobility & Cloud | ITSM & Help Desk| IT Outsourcing & Managed Services | Annual Maintenance Contract & Professional Services

ACIS IT's multi-cultural and multilingual team works hard to support every customer with the prime focus on providing technology that makes life simple, while driving maximum ROI. The company firmly believes in delivering the right solution, with the right attitude for quality in order to achieve its customer's satisfaction.

For more information, visit www.acisit.com