Dubai's Smart Data Summit is Back for its Fourth Edition
Posted On October 18, 2016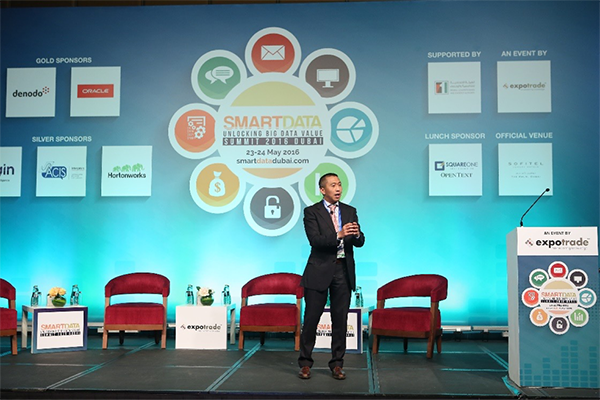 Keynote session in progress at the 2016 edition of the Smart Data Summit
The summit will be held on 3-4 April 2017 at Sofitel Dubai The Palm Resort & Spa
Expotrade, organizers of the Smart Data Summit, the leading big data analytics event in the Middle East region, today announced the dates of its 2017 edition of the event. Taking place on 3–4 April, 2017 at Sofitel Dubai The Palm Resort & Spa, the 4th Annual Smart Data Summit will be a platform for over 300 senior IT, marketing and business intelligence specialists to come together to discuss the opportunities and challenges arising in big data, analytics and cloud computing.
The summit held under the theme Driving Customer Insight & Business Performance through Big Data Solutions will feature sessions that emphasize on the power of big data in transforming business. Consisting a mix of keynote presentations, panel discussions and case study presentations from leading experts in the field of big data and analytics, the summit agenda will cover over 20 sessions across two days.
Announcing the summit, Mr. Brad Hariharan, Regional Director, Expotrade Middle East, said, "We are pleased to announce the dates of the fourth edition of the Smart Data Summit. Year after year we have witnessed an increase in attendance from participants across the GCC. With the upcoming edition of the summit highlighting the significance of data-driven business decisions, we are confident that the 2017 edition will achieve greater heights in bringing effective insights and perspectives to our participants."
With countless networking opportunities available, the summit fosters an environment for learning and knowledge-sharing. At the networking lounge, delegates will have access to new age products, solutions and tools that will help optimize business efficiency and performance.
This year's edition of the summit saw renowned experts and sector specialists from FCSA, Apple, Dubizzle, LinkedIn, Ajman Municipality & Planning Department, Etihad Airways, IKEA and Saudi Telecom share key insights with the delegates in attendance.
The summit received favourable feedback from speakers and delegates alike with Ahmed Al Ahmed, CIO, Nakheel, commenting, "Excellent topics and speakers; very good in sharing the ideas and looking at real case projects; valuable information; good time-control."
Irina Kornysheva of ACIS Information Technology stated, "The event Smart Data Summit 2016 was very well-organized. Everything was done according to the schedule. It had perfect time management, interesting speakers with amazing presentations – great experience for our company as a silver sponsor."
For more information on the 4th Annual Smart Data Summit, please log on to http://www.smartdatadubai.com. Follow the Summit on social media with the hashtag #SDATAS2017.