Dates announced for the 6th Annual Smart Data Summit 2019
Posted On November 19, 2018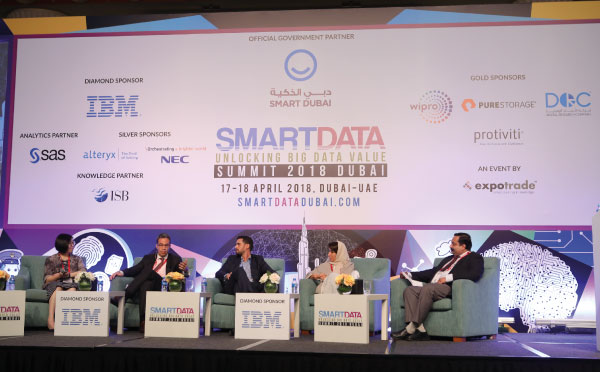 The only big data analytics focused event in the Middle East region – the Smart Data Summit is back for its sixth edition on 15-16 April 2019 at Sofitel Dubai The Palm Resort & Spa. Organized by renowned conference organizers, Expotrade Global, this two-day event will highlight the trends and developments in the big data analytics industry, with an emphasis on how it is transforming business models, from strategy to execution.

The Middle East big data, business intelligence and analytics market is witnessing burgeoning growth with industry reports indicating that this sector is expected to reach USD 12.38 billion by 2020. In today's digital world, unprecedented volumes of data are generated every day, providing organizations the opportunity to analyze and explore the full potential of this data in the day-to day business.

Under the theme, driving customer insights & business performance through big data solutions, the sixth edition of the Smart Data Summit will focus on key trends such as data monetization, data humanism, augmented analytics, dark data, cloud analytics, and data governance, amongst others. The two day event will cover over 20 topics, including case study presentations and panel discussions pertaining to power of personalization, data security, predictive or prescriptive analytics, and how data analytics driving the ecommerce market.

Across two days, over 40 speakers will participate in the summit as speakers and panelists. Noora Al Ahbabi,Chief Information Security Officer, Ministry of Economy; Matthieu Guinard, CEO, Glambox; Dikdyuti Sen, Chief Marketing Officer, Talabat; Kenan Atalay, Head – Digital Analytics, Al Tayer and Mike Vessey,Head of Data Governance, Abu Dhabi Investment Authority, to name a few, are some of the industry experts who have confirmed early to speak at this event.

At the 6thAnnual Smart Data Summit, more than 300 senior IT and marketing professionals from the region and across the globe, ranging from retail and ecommerce to aviation, from travel and hospitality to BFSI and healthcare, amongst others, will attend to learn about the latest trends in this sector and benefit from the innumerable networking opportunities this two-day event presents.
Source: The Arabian Post