Banking on big data analytics
Posted On November 25, 2019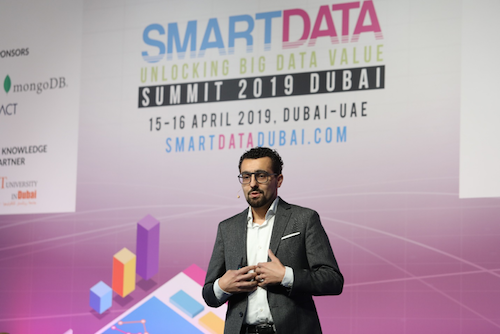 Walid Mehanna, Head - Data & Analytics, Mercedes-Benz Cars, Daimler AG, Germany delivering the keynote address at Smart Data Summit 2019

Dubai, United Arab Emirates, November 25, 2019: The banking industry worldwide has undergone a massive upheaval with processes and systems becoming more digital- oriented and solutions more customer-oriented. To appeal to the needs of the new-age customer, banks have reinvented systems based on customer behaviour models using big data and analytics.

In this data-driven world, marketers are banking on data, advanced analytics and AI to deliver personalized experiences, customized applications to keep the consumers engaged, and gain a competitive edge. Industry reports suggest that only 30% of banks in EMEA have matched their analytics efforts with business goals, from anomaly detection to segmentation and from optimization to forecasting.
Mr. Brad Hariharan, Regional Director, Expotrade Middle East, organizers of the 7th Annual Smart Data Summit said, "Data analytics is regarded as the key driver for powering digital transformation in all industries across the world, and it is widely believed that many of the business challenges in the banking and finance industry may be solved by applying a combination of AI & big data techniques."

At the Smart Data Summit, being held on 23-24 March 2020 at Sofitel Dubai The Palm Resort & Spa, industry experts will delve into a panel discussion on the optimum utilization of big data & analytics in the banking industry, with emphasis on innovating and offering data-driven product offerings for today's customer.

Subject matter experts from leading banks such as Richard C. van der Wath, SVP Head of AI & Advanced Analytics, Emirates NBD; Kartik Iyer, Head of Data & Business Intelligence, United Arab Bank; Sachin Bansal, Head of Segments, Loyalty and Assets, National Bank of Oman; Bahaa' Awartany, SVP & Head of Business Analytics & Decision Support - Personal Banking Group, First Abu Dhabi Bank; Pranay Sharma, AVP - Head of Customer Analytics, Emirates Islamic Bank and Muhammed Raza Jessani, SVP, Head of Strategic Planning & Business Analytics, Dubai Islamic Bank will participate in this panel discussion.

More information on the Smart Data Summit is now available at https://www.smartdatadubai.com/. Follow the Summit on social media with the hashtag #SMDATA.