Next week, the Smart Data Summit will explore the importance of data analytics and AI in a digitally-driven world
Posted On February 10, 2021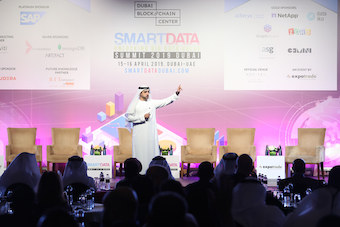 In today's rapidly changing digital landscape, it has never been more crucial for businesses to stay ahead of the curve and invest in the systems that are revolutionising the industry. With AI and big data analytics, businesses are able to understand and predict customer habits like never before and utilise this information to increase profitability and efficiency.
Expotrade is pleased to announce the 7th Annual Smart Data Summit is returning on the 17th and 18th of February, 2021 at the Mövenpick Grand Al Bustan Dubai, for a live and in-person overview of the latest and greatest advancements in the big data and advanced analytics space.
Particularly in the context of COVID-19, there has never been a better time to bolster your company's data capabilities and incorporate the power of AI. Businesses have become increasingly digital during the course of pandemic, with online services and working-from-home the new normal across the globe. This has provided an incredible growth opportunity for the big data industry as companies rush to create a safe and secure online future.
Spread across two days, just a few of the areas covered in the summit include:
Automation as a tool in paving the way towards analytic maturity, presented by Nick Jewel, Sr Director of Product Management & Shaan Mistry, Product Manager - Technology Evangelism at Alteryx
Identifying data valorization opportunities, presented by Marcelo Kekligian, EY Partner, Big Data & Analytics at Ernst & Young
DataOps and data management practices, presented by Jean-Francois Monteil, EMEA Solution Engineering Leader, Hitachi
A look at how AI and automation can transform your business for the better, presented by Sid Bhatia, AI Strategy Director, Dataiku & Karthic Sundararaj, Vice President Technology and Architecture, Etihad Airways
This event brings together industry professionals and tech experts to share knowledge, innovation and build a valuable network of connections. From banking and real estate to hospitality and healthcare, the summit spans across a wide range of sectors and explores the ways AI and machine learning are revolutionising each of them.
Some of the esteemed speakers featured at this event include:
Abboud Ghanem, RVP, Middle East & Africa, Alteryx
Ameya Karvir, Vice President, Data Science & Analytics, Discovery Inc - USA
Dimple Dinesh, Marketing Science Partner at Facebook MENA
Latifa Saleh AlShehhi, Head of Algorithms Analysis and Development Section, Federal Competitiveness and Statistics Center, Ministry of Cabinet Affairs
Osama Elhassan, Head of e-Health Section, Dubai Health Authority
Bahaa' Awartany, SVP & Head of Business Analytics & Decision Support - Personal Banking Group, First Abu Dhabi Bank
Antonio Ricciardi, SVP Consumer Intelligence & Engagement, Etisalat
Peter Moen, General Manager, ekar
Ryan Den Rooijen, Head Of Data & Analytics, Chalhoub Group
Shaily Verma, Head of Data & Analytics, Emaar Group
Frederik Bisbjerg, Executive Director - Digitization, Daman
Seham Elbehissy, Digital & Connected Cars General Manager, Groupe Renault
The 7th Annual Smart Data Summit is being presented by Expotrade in partnership with our platinum sponsor Alteryx. Our other partners are Confluent, Zoho, Dataiku, Snowflake, Deonodo, Hitachi, Ernst & Young, Evalueserve, SAS and more.
Don't miss out on the opportunity to attend the Smart Data Summit and discover how to harness the advantages of big data analytics and AI technology.
The Smart Data Summit is a in-person event, with hygiene and social distancing measures strongly enforced in accordance with DHA guidelines.
Source: Zawya