Dubai Police named Smart Data Champion
Posted On November 27, 2021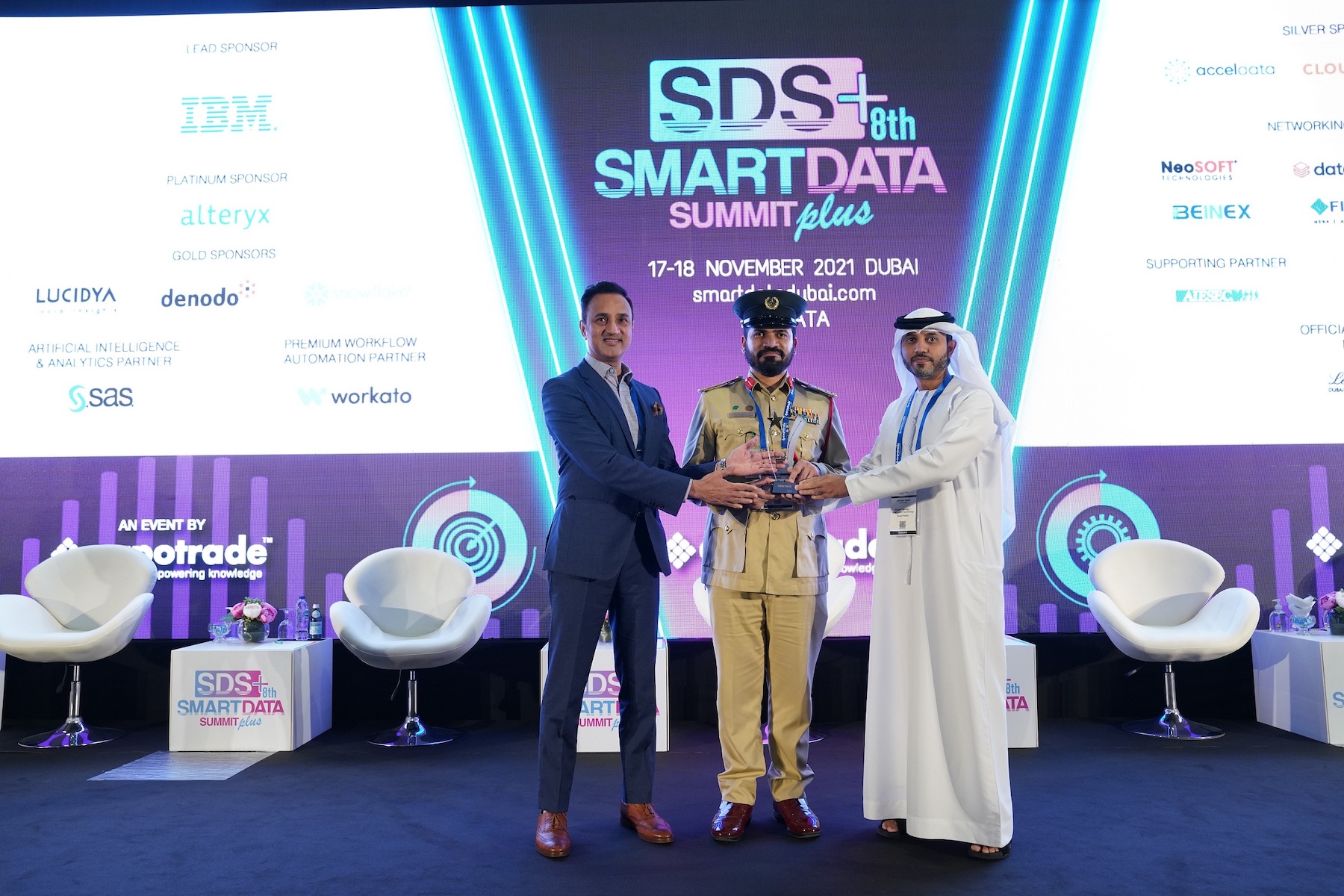 The Dubai Police, represented by the General Department of Artificial Intelligence, has recently been recognised by the SDS+ Data Awards as a "Smart Data Champion of the Year" for the Smart Police Stations (SPS) initiative.

The Force was awarded for its outstanding achievements in applying data analytics and AI technologies across its policing and service sectors.

The Award, presented by IBM (International Business Machines Corporation), was handed over during a ceremony organised on the sidelines of the eighth edition of Smart Data Summit plus held on 17-18 November 2021.

Brigadier Khalid Nasser Al Razooqi, Director of the General Department of Artificial Intelligence at Dubai Police, confirmed that the Award is a great addition and a qualitative achievement that reflects the Force's rapid and exceptional progress in utilising smart data and technologies.

"Dubai Police has become an idol in terms of professional policing work, especially with its proud record of local and international achievements," he added.

Brig. Al Razooqi explained that the Smart Police Stations (SPS) are in response to the directives of our wise leadership to make Dubai the world's smartest and most forward-looking city.

"They operate 24 hours, seven days a week and offer 27 vital security services, including reporting crimes, traffic incidents and community services. They also provide 33 fully automated community-based sub-services ranging from obtaining a good-conduct certificate to requesting support for victims," the director of the General Department of AI continued.

"Taking into account the cosmopolitan nature of the emirate of Dubai, the SPS offer services in seven different languages, namely: Arabic, English, Spanish, French, German, Russian and Chinese," he added.

Brig. Al Razooqi attributed this achievement to the wise directions of Dubai Police's Commander-in-Chief, His Excellency Lieutenant General Abdullah Khalifa Al Marri, who has consistently urged the Force's departments to adopt the latest AI-backed technologies and implement the best international practices to provide world-class policing services.
Source: Government of Dubai Media Office