Leveraging Analytics to take Smart Decisions in Retail
Posted On February 9, 2015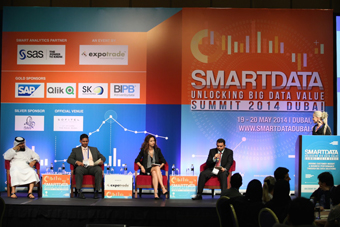 Panel discussion in progress at Smart Data Summit 2014
They say the only constant in life is change. And it is choice that propels it forward. Though understanding choice and its impact on customer behaviour is critical for almost every industry, including telecom, services and banking, it is the retail industry that is especially vulnerable to the vagaries of changing mindsets, product options and customer choice. With dynamism in the industry a staple for the business environment, predicting trends and customer behavior is often the most potent tool in a retailer's arsenal. Leveraging the wealth of information available in data pools of user behavior can enable management to use predictive analytics for smart decisions. Delving into the dynamics of these smart decisions is the main focus at the Smart Data Summit 2015, to be held on May 25-26, 2015 at Sofitel The Palm Resort and Spa, Dubai, UAE. The event is produced by global conference and event organizers, Expotrade.

Retailers seem to be forever bearing the brunt of shifting preferences, dynamic trends and evolving styles - the complexity is compounded by combinations of styles, sizes, each bringing its own peculiar consumer demand patterns with it. This problem is of particular relevance to the Middle East market, especially Dubai, with its global image as a shopping hub, where brand marketing, seasonal shopping festivals and genuine buyer interest combine to create a unique user experience. Faced with decisions on product mix, pricing and markdowns, retailers must turn to intelligent predictive analytics to guide them. The advent of omni-channel retail has brought challenges as well as opportunities. Creating a seamless, integrated shopping experience for their customers, while retaining control over pricing and customer information, is quite the technical challenge, one that only a sophisticated smart data analytical tool can help understand.

Next on the list is forecasting demand. This is truly tricky, as it means playing around with data sets and clusters of information relating to past offers, new offers and many other influencers. Unless analytics are used in a smart manner, demand calculations can go awry. Hand in hand with demand comes the inventory schedule, with analytics helping predict what, when and where to stock. The effects are far-reaching, with an engaging loyalty program the logical outcome.

The last ingredient in the mix is locking down on a pricing and markdown strategy. Deciding the right price for the right product based on inventory, seasonality and even shelf space is another question that only optimal use of smart data analytics can help resolve.

Thus, it is predictive analytics and a robust tool at that, which is the common denominator running through the omni channel retailing process. It is quite interesting to think that even the smallest and most innocuous of purchases can be a decisive factor in arriving at a comprehensive retailing strategy. The Smart Data Summit explores this increasingly direct relationship between predictive analytics and retail dynamics.

Visit www.smartdatadubai.com for event details.