Smart Data Summit 2015 welcomes Wipro's premier association as Gold Sponsor
Posted On February 16, 2015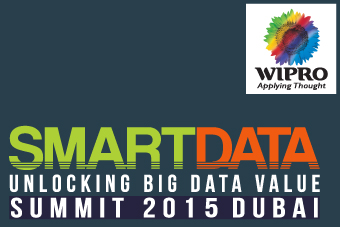 Smart Data Summit is proud to announce Wipro Ltd. as a Gold Sponsor for the 2015 edition of the event, to be held at Sofitel The Palm Resort and Spa, Dubai, on May 25-26, 2015. Produced by global conference organizers, Expotrade, the two day summit will be a platform where heads of marketing, IT, analytics, technology and more will gather to network, learn and participate in stimulating discussions regarding smart data and its potential to improve decision making within businesses. Wipro's innovative approach towards delivering business value ties in well with the theme of the summit, which is unlocking big data value.
With smart data playing a pivotal role in ensuring customer delight, organizations can no longer ignore the immense potential this treasure-trove of information holds. It is only when brand equity is turned into value that it truly becomes worthwhile. And marketers across the world have appreciated the contribution of customer experience to the overall worth of a brand. Things become even more interesting when it comes to customer experience in a digital world. Trends in buyer behaviour, preferences and purchase patterns, tracked and analyzed using sophisticated smart data tools come to the forefront. How this can transform marketing strategies worldwide will be discussed at the Smart Data Summit later this year.
The importance of gains from big data analytics, and driving insights to benefit business and drive value to customers is emphasized by A R Ramesh, General Manager and Business Leader - Advanced Technologies & Solutions: India and Middle East, Wipro Limited, who will be speaking at the event on 'Redesigning Business Digitally'. He says, "The Smart Data Summit will give us a chance to discover innovation, best practices and solutions for better insights, and explore new partnership opportunities with institutional decision makers and influencers. It also gives us an opportunity to prove Wipro's in depth expertise around the apps space to customers, advisors and analysts. In addition to expanding our peer network, we are looking to open up discussions on how Wipro can assist in achieving cutting edge technology solutions to create more engaging conversations for/ with customers."
Brad Hariharan, Regional Director, Expotrade Middle East, organizers of the conference, welcomed the partnership, saying, "Wipro's commitment towards customer centricity and delivering better customer experience is remarkable. This drive to provide value at every stage of the customer lifecycle can only be achieved when the potential of smart data analytics is fully harnessed. The Smart Data Summit, with its key sessions on influencing product decisions with analytics, featuring speakers from Facebook and Paypal, is an ideal platform for Wipro to take its offerings to the audience. We look forward to an impactful partnership with Wipro."
For more details on the summit, visit www.smartdatadubai.com
About Wipro
Wipro Ltd. (NYSE:WIT) is a leading Information Technology, Consulting and Business Process Services company that delivers solutions to enable its clients do business better. Wipro delivers winning business outcomes through its deep industry experience and a 360 degree view of "Business through Technology" - helping clients create successful and adaptive businesses. A company recognized globally for its comprehensive portfolio of services, a practitioner's approach to delivering innovation, and an organization wide commitment to sustainability, Wipro has a workforce of over 150,000, serving clients in 175+ cities across 6 continents.
For more information, please visit www.wipro.com