Future of data analytics and BI explored at the Smart Data Summit
Posted On April 15, 2019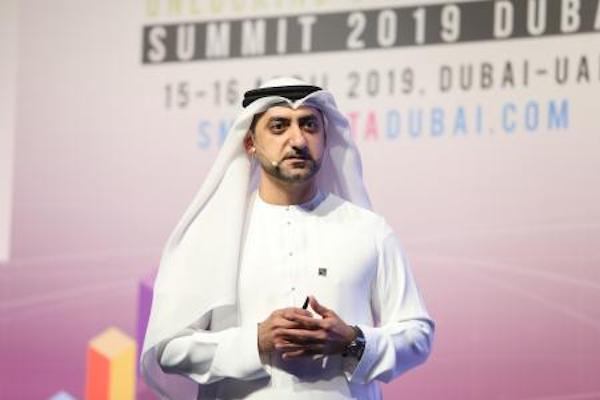 Dubai, United Arab Emirates: H.E. Mohammad Hassan, Executive Director - National Statistics and Data Sector, Federal Competitiveness & Statistics Authority along with Dr. Marwan Alzarouni, Chief Executive Officer, Dubai Blockchain Center and other dignitaries inaugurated the sixth edition of the Smart Data Summit, held with the support of the Dubai Blockchain Center as the Official Supporting Partner.

Following a welcome address by H.E. Mohammad Hassan, Sameer Areff, COO, Middle Eas, South, SAP, platinum sponsor of the event also delivered opening remarks. Walid Mehanna, Head - Data & Analytics, Mercedes-Benz Cars, Daimler AG delivered the keynote presentation. During his session, he emphasized on how business value can be delivered with data-driven solutions.

Dr. Hichem Maya, Head of Industries Digital Transformation - EMEA, SAP delivered a presentation on the opportunity behind data-driven new business models, while Dr. Marwan Alzarouni, Chief Executive Officer, Dubai Blockchain Center presented on smart data in the age of blockchain.

More than 30 subject matter experts participated as speakers and panelists at the first day conference that featured keynote sessions, case study presentations and panel discussions on topics related to data personalization, the role of analytics in the retail sector, managing cyber security breaches in the digital age. Over 250 senior data analytics, marketing, IT, business intelligence, digital and strategy professionals from across the region attended the conference.

Alteryx's Dean Stoecker, Hoseb Dermanilian of NetApp, GraphAware's Alessandro Negro, Dataiku's Hylke Visser, Bruno Mandic of Cloudera and Ali Shabdar of Zoho Corporation delivered presentations on surviving the half life of the enterprise; are you ready for artificial intelligence; using knowledge graphs to predict customer needs, improve product quality and save costs; your path to enterprise AI; the enterprise data cloud and transforming your organization by deploying a people and data centric approach respectively.

The second day of the summit will begin with a session on using data to make smarter marketing decisions by Tony Evans, Marketing Science Director - Middle East and Africa and Gaming, Facebook. Day 2 program agenda will feature ten sessions, including two panel discussions on predictive analytics driving the e-commerce market and a fluid data strategy.

More than 25 leading organizations with solutions in the data analytics sector participated at the summit as sponsors, including SAP, Alteryx, Netapp, Dataiku, GraphAware, Zoho Corporation, ASG Technologies, Gemini Data, Protiviti, MongoDB, Artefact, ThinkBumbleebee Analytics, and Cloudera, to name a few.
Source: Zawya